Jen Dirga, the Director of Social and Emotional Learning at Project Adventure, Laura MacDonald, a trainer at Project Adventure focused on the practice of SEL through physical education, and Prudy Pilkanis, the Health and Wellness 6-12 Curriculum Leader in the Hamilton-Wenham Regional School District, all shared their ideas and stories about how experiencing learning has had a tremendous impact on the individuals and groups they've worked with. We wanted to use this webinar to introduce actives ways to bring experiential learning into the classroom so students can make connections between what they do in school to their lives in their communities.
If you didn't get a chance to take part in the webinar, please find a link to view it here. We are also hosting two half-day workshops where participants will be able to experience activities that can be immediately implemented in their learning communities. One of these workshops will be in Beverly, MA on November 14th and the other will be at the Kroc Corps Community Center in Boston, MA on November 16th. We hope to see you there!​
Social and Emotional Learning by Doing
We're excited to share our learning with you and invite you to join us in upcoming workshops featuring ways to incorporate SEL in the classroom.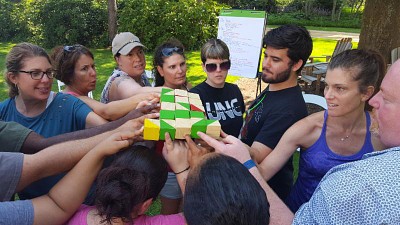 BEVERLY, Mass., October 17, 2017
The idea of social and emotional learning is a hot topic amongst educators everywhere. These "soft" skills are often seen as one more thing to evaluate, include, and measure over the course of the school year; one more thing on a list of a hundred that educators need to make sure they impart upon their students in a day that never seems long enough. So how do we turn the practice of social and emotional competencies into a way of life so that it's not just one more thing?
We hosted a webinar to overview the importance of having students experience the somewhat complex social and emotional learning competencies that often mirror their school and district core values. We believe that if you can feel your learning, and make connections to the skills, you'll have a higher chance of retaining what you learned. That is the foundation of Project Adventure, and we continue to practice what it's like to "walk the walk" through our programs with students, faculty, and administrators. We seek to incorporate the practice of social and emotional competencies in all the work we do through the use of adventure.​